Welcome to LarcomAir. Trusted, Reliable, and Dedicated
LarcomAir. began in 1999 with a vision of offering outstanding customer service exceeding our customers' expectations. As an established heating, cooling, and electrical company, we offer customer-facing personalized service along with decades worth of expertise. We offer quick HVAC installation and repair services to make life easier for our customers. With steady growth and customer satisfaction, our company has expanded to serve residents and business owners in seven states across the country. We have over 12,500 square feet of office and warehouse space to accommodate residential and commercial services. We have 14 vehicles, 21 employees of experienced factory train certified technicians and electricians, and a wide selection of customizable heating and cooling solutions that allow you to choose the perfect temperature for your needs. We are experienced in servicing all types of residential and commercial HVAC systems, including rooftop units.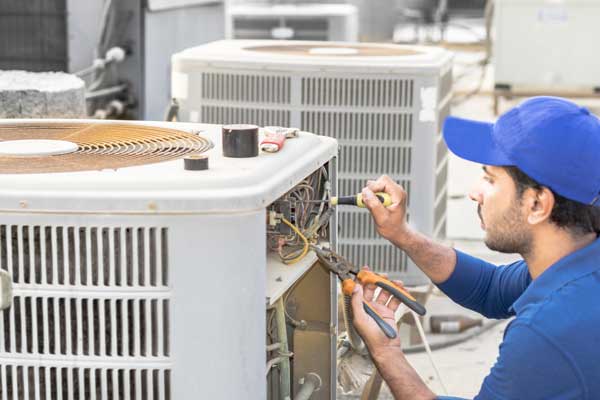 Commercial and Residential HVAC Services
AC repairs and Installations

AC replacement parts

Electric furnace repairs and installations

Gas furnace repairs and installations.

Ductwork cleaning services

Heat pumps service

Gas central unit service

Geothermal service

Mini Splits repairs and new system installations
Steve Smith
Service Manager Steve Smith joined our team back in 2010, originally from Wingo, KY. Steve is a valued manager. Steve is the go-to guy for anything related to HVAC, whether it be service, installation, or quality repairs. Steve Smith is a hard worker who's willing to share his expertise. Steve has been on LarcomAir team since 2010. We are comfortable knowing he will provide expert HVAC solutions and exceed your expectations next time you call us.
Schedule HVAC Repairs and Installation Services Today
We are confident you'll be satisfied with our high level of service. Our guaranteed service, competitive pricing, and quick response will give you the satisfaction you are looking for. We specialize in HVAC installation, maintenance, and repair for all types of systems, including rooftop units. Give us a call at (731) 885-1021 or fill out the online form to set up an HVAC service appointment.